Back to Journals » International Journal of Chronic Obstructive Pulmonary Disease
SJR OA
Impact Factor
International Journal of Chronic Obstructive Pulmonary Disease
ISSN: 1178-2005
SJR Top 10 OA journal
ISSN 1176-9106 (Print) - went to online only in 2009
An international, peer-reviewed journal of therapeutics and pharmacology focusing on concise rapid reporting of clinical studies and reviews in COPD. Special focus will be given to the pathophysiological processes underlying the disease, intervention programs, patient focused education, and self management protocols. This journal is directed at specialists and healthcare professionals.
Journal Impact Factor: 2.917 (5 year impact factor 3.292)
This journal is a member of and subscribes to the principles of the Committee on Publication Ethics (COPE).
Indexed online: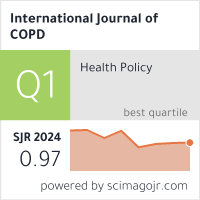 PubMed and PubMed Central (Int J Chron Obstruct Pulmon Dis)
MedLine
Science Citation Index Expanded (also known as SciSearch®)
Journal Citation Reports/Science Edition
Embase, from 2007 (Correct as at December 8, 2016)
Scopus, from 2007 (Correct as at December 8, 2016)
Directory of Open Access Journals (DOAJ)
OAIster: The Open Access Initiative
Related journals you may also be interested in: