(569,642) Views
1178-6973
ISSN 1178-6973
An international, peer-reviewed, open access journal that focuses on the optimal treatment of infection (bacterial, fungal and viral) and the development and institution of preventative strategies to minimize the development and spread of resistance.
This journal is a member of and subscribes to the principles of the Committee on Publication Ethics (COPE).
Indexed online: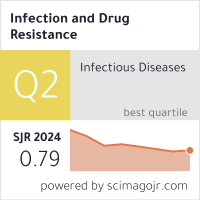 Article Processing Statistics:
13 From submission of manuscript to first editorial decision (including peer-review)
36 From editorial acceptance to publication
Testimonials


"I was impressed at the rapidity of publication from submission to final acceptance." Dr Edwin Thrower, PhD, Yale University.
Search for Articles in the Dovepress Journal: Infection and Drug Resistance