(982,123) Views
1179-1349
ISSN 1179-1349
An international, peer reviewed, open access, journal focusing on disease and drug epidemiology; identification of risk and prognostic factors; and screening procedures to develop optimal clinical preventative initiatives, diagnosis, and treatment.
This journal is a member of and subscribes to the principles of the Committee on Publication Ethics (COPE).
Indexed online: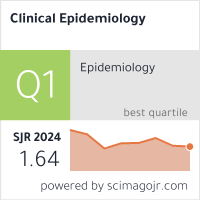 Article Processing Statistics:
12 From submission of manuscript to first editorial decision (including peer-review)
Testimonials


"You do a tremendous job!!" Ruben Restrepo, University of Texas Health Science Center, San Antonio.
Search for Articles in the Dovepress Journal: Clinical Epidemiology