(680,768) Views
1555-175X
ISSN: 1555-175X (online)
1555-1741 (print)
Core Evidence evaluates the evidence underlying the potential place in therapy of drugs throughout their development lifecycle from preclinical to postlaunch. The focus of each review is to evaluate the case for a new drug or class in outcome terms in specific indications and patient groups.
This journal is a member of and subscribes to the principles of the Committee on Publication Ethics (COPE).
Note to authors: Before submitting your paper to Core Evidence please ensure you include the Levels of Evidence.
Indexed online: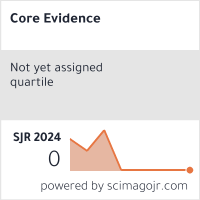 PubMed (

Core Evid)

CINAHL
Embase, Scopus and the Elsevier bibliographic databases
OAIster - The Open Access Initiative
ResearchGATE scientific network
Testimonials


"I was impressed at the rapidity of publication from submission to final acceptance." Dr Edwin Thrower, PhD, Yale University.
Search for Articles in the Dovepress Journal: Core Evidence